New Delhi, Oct 18 :Known for her linen saris and hand-woven textiles, designer Anavila Misra, who has styled the likes of stars like Sonam Kapoor, Kangana and Kiran Rao, says the Hindi film industry and the fashion world share a symbiotic relationship.
"Even if you look towards Hollywood, the film celebrities are the people who are photographed and everyone is looking at them. All the brands are trying to show their garments on the celebrities. I think it's a symbiotic relationship (between the fashion industry and Bollywood)."
"We really follow Bollywood as Indians, and I think it just strengthens the beliefs for the customers, clients and normal people to see, 'Okay, if she can wear it, and look so pretty…'. So yeah, I think it is a symbiotic relationship," she added.
"Look at Kangana. Anything that she wears just looks like it's made for her. Look at Sonam, she has that inherent, very stylish way of things. She picks up her own trends and looks very comfortable. Look at Konkana, she is so earthy and simple," she said.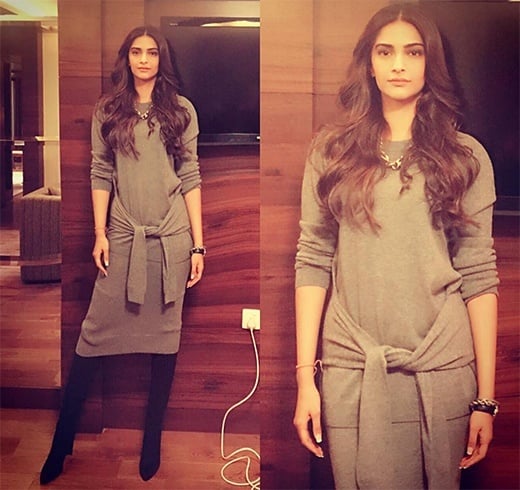 Misra feels the "younger generation" in Bollywood are the trendiest as they "have their own personality".
"They are not guinea pigs to any designer. The stylists are also doing very good work as they are always looking out for what is happening in the Indian fashion industry. Right now the Indian fashion is at a very exciting stage," she added.
The Amazon India Fashion Week Spring-Summer 2017, organized by the Fashion Design Council of India (FDCI), where she spoke on the sidelines. Her latest collections were showcased during the event,mostly handloom saris. The products of handlooms are getting popular in the country according to her.
"There are some clusters that are easily accessible or are more open to ideas…West Bengal, for example, or Benaras… These are the places where people are working more because these places are accessible, weavers are open in their minds and are ready to collaborate," she said.
"These are the places that maybe  government agencies or some brands, who have that kind of vision have to go to and now collaborate with those people. Otherwise,those crafts will slowly die," she added.
WEFORNEWS BUREAU