New Delhi, Oct 3: Legendary singer Asha Bhosle unveiled her wax statue at the Madame Tussauds museum in New Delhi on Tuesday. Ms Bhosle tweeted a couple of pictures from the event and wrote, "Unveiling my wax figure at Madame Tussauds."
Asha Bhosle says being immortalised with a life-like figure capturing all aspects of her real self, has made her feel immensely proud.
"I have won many awards… I have got honours from the government and even hold a Guinness World Record. I have got it all. But the way I am, they (Madame Tussauds' artistes) have made me (the figure) like that only, and watching that is making me very happy and proud.
"I am feeling proud of those who have made it for making it well. I am happy that I am one of those they have chosen from India (for the museum)… This is India's victory, not mine," Asha said in response to a question by news agency IANS.
The legendary singer looked radiant and elegant in an off-white sari, complete with sparkling solitaires in the ears, a pearl string on her neck, a bindi and white flowers adorning her hair.
Here's Asha Bhosle unveiling her wax statue at Madame Tussauds, Delhi.
Unveiling my wax figure at Madame Tussaud's pic.twitter.com/4J38NE5Ejm

— ashabhosle (@ashabhosle) October 3, 2017
My Madame Tussaud's wax figure from up close pic.twitter.com/jqrLhnL4Qr

— ashabhosle (@ashabhosle) October 3, 2017
— ashabhosle (@ashabhosle) October 3, 2017
At the unveiling, Asha stood besides her wax figure, which is sculpted in a symbolic singing pose with a mic and has been crafted from over 150 measurements and photographs. She posed just like the figure — looking like a mirror image.
Only the sari is different, she quipped.
"It is looking very beautiful and they have caught every detail intricately. The jewellery, earrings, neckpiece, off white sari… It's all like what I wear.
"It's like I'm looking in a mirror… If I wore that sari, I would have looked like this only," she said as she admired the figure, which will be placed in the Bollywood music zone of Madame Tussauds museum, due to open here on December 1.
She says the officials had asked her where she'd like the figure to be placed.
"I told them I want it between that of Elvis Presley and Michael Jackson."
When the young at heart songstress, who has sung in multiple genres, styles and languages throughout her glorious career, was asked if she feels the figure has come too late in her life, she said on a positive note: "Aaya toh sahi (At least it happened)."
Asked what are her expectations and ambitions in life after working hard for so many years, Asha said: "I don't keep any such ambitions. God gives a lot… I am in the 85th year of my life, 84 have finished… In my mind, there was this desire (about the wax figure) and that has got fulfilled.
"I don't expect much from life… Whatever God gives, I am happy in that. And whatever work God gives, I work hard on that. It has reaped benefits. I gave my work my all and I sang every song like my first song."
Last year, a team of experts from Madame Tussauds had met Asha Bhosle last year for the specific measurements and images.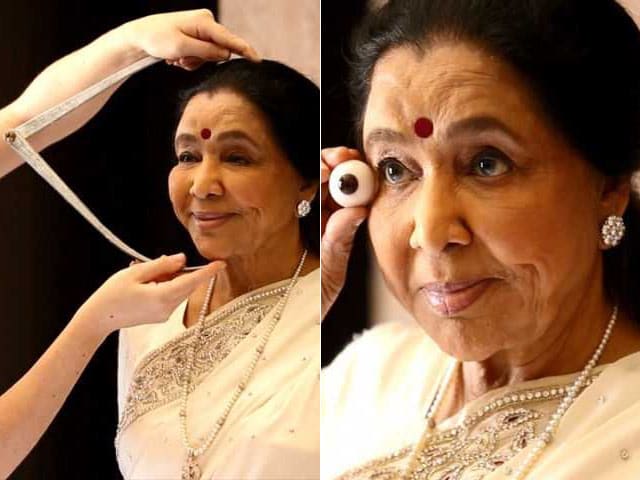 Summing up the launch, Asha gave into a request for a song, and broke into the evergreen "Chura liya hai tumne jo dil ko", sounding as young and melodious as when the song first saw Zeenat Aman strumming away a guitar in the 1973 film "Yaadon Ki Baaraat".
Madame Tussauds Delhi, being launched by Europe's Merlin Entertainment, will have wax figures of Bollywood, Hollywood, sports, history and political personalities under one roof, through planned themes and interactive areas. Wax statues of celebrities like Amitabh Bachchan, Lady Gaga, Sachin Tendulkar, Salman Khan, Ranbir Kapoor and Kapil Dev will also be displayed.
It will open at the iconic Regal building in Connaught Place on December 1.
WeForNews Bureau