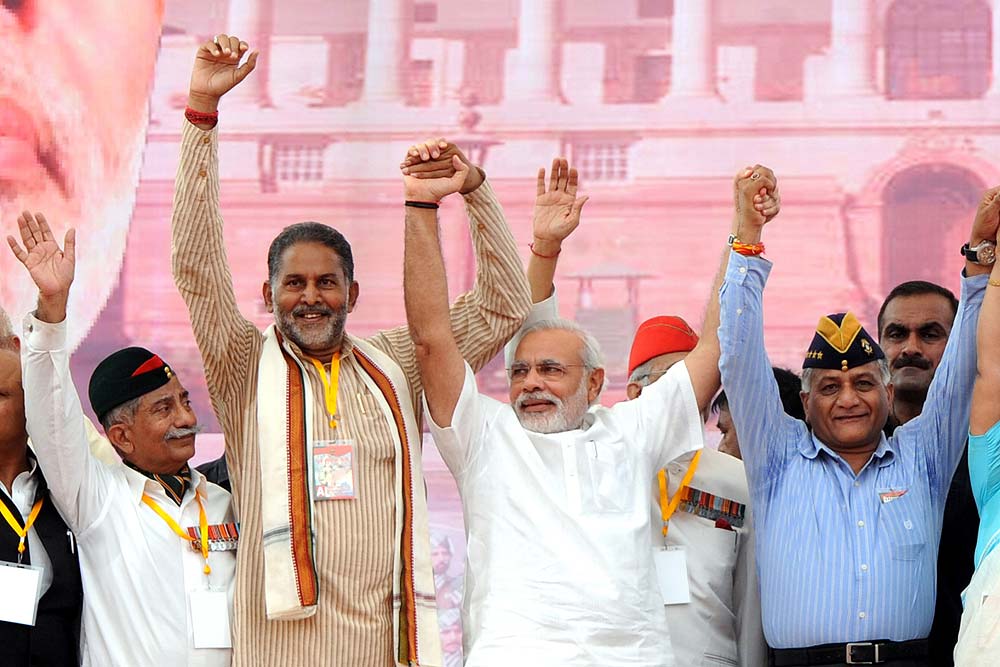 Political "Jumlas" used by Prime Minister Narendra Modi, his ministers and campaign team are often seen as successful in garnering votes since 2013 but the real issue is hanging fire since 2013 when PM Modi promised to give One Rank one pension (OROP) for military veterans in a first public meeting in Rewari in 2013 after being declared as BJP's prime ministerial candidate. But the promise has remained unfulfilled due to ambiguities created by Modi government.
Finally one rank one pension scheme was announced by the Modi government on September 6,2015 but ex-servicemen are unhappy saying that they have been actually cheated by the present government.
As the matter stands an old General is allegedly getting less pension than a major retired in 2015 is drawing currently.
OROP scheme finalized by FM Arun Jaitley

Veterans unfulfilled demands

Government said that pension of the past pensioners would be re-fixed on the basis of retirees of the calendar year 2013, taking into account the average of minimum and maximum pension of the personnel retired, and the scheme is effective  from 1.7.2014, with 2013 as the base year.

Veteran's demand OROP from April 1,2014 with 2015 as the base year.

Finance Minister Arun Jaitely finalised that  OROP will be average of minimum and maximum pension scale in 2013.

Veterans demand Base for pension should be maximum of the pension scale in 2013.

The scheme to be revised every 5 years.

The scheme should be revised every 1 or 2 year.

One-member judicial commission to submit report every six months.

Five member team under Defense Minister to submit report on monthly basis.

Pension for those drawing above the average shall be protected.

About three million military personnel covered under the OROP scheme. The arrears are to be paid in four half-yearly installments and all widows, including war widows, will get arrears in one go.

Arrears will be paid in four installments, calculated on half-yearly basis. However, exceptions will be given to all family pensioners including those in receipt of Special/Liberalized family pension and Gallantry award winners for whom the arrears will be paid in a single installment.

The estimated cost to exchequer is expected to be Rs 8,000 to 10,000 crore and will increase in future.

Senior officials argue that a senior officer can never receive a smaller pension than a junior officer.

The government initially said soldiers who took "voluntary retirement" would not be entitled to OROP.

at least 40% of servicemen retire early
Actually the one Rank One Pension signifies equal pension to military personnel retiring in the same rank with same length of service, regardless of the date of retirement. Veterans emphasize that OROP is like an honour to them and this type of implementation negates the justice as the military personnel are not treated in equity which are so necessary for  national security.
Retired major General Satbir Singh has rightly claimed that what has been implemented is not OROP but one-time increase in pensions. If the anomalies are not removed, a senior defence personnel will start drawing less pension than their juniors, a system unacceptable constitutionally, fairly and justifiably.
Amid hightened tensions between India and its nuclear-armed neighbour Pakistan, a dispute with the country's military is something Modi cannot afford.
Military personnel even lined up to return their medals, points to the fact that how the army personnel h are clamoring for their desired pay.
According to the findings of a study of salaries conducted by the Institute of Defence Studies  and Analyses, those serving at the highest positions in United States and United Kingdom are paid much more then their Indian counterparts.
For instance, a General in the UK military would earn close to $23,000 a month as basic salary in purchasing  power parity terms while while his Indian counterpart would get less than $10000. No such confusion allegedly exists in retired Army personnel of Pakistan and China.