Jakarta, Aug 28 : Four-lap runner Manjit Singh turned out to be India's sole gold medallist on Tuesday, a day on which it lost two compound archery team finals and P.V. Sindhu gold-medal match, while men's table tennis team settled for a maiden bronze and India reached 50 medals at the 18th Asian Games here on Tuesday.
Manjit led India's top-two finish in the 800 metres race with Jinson Johnson, while 4X400 metres relay team, comprising Muhammed Anas, Rajiv Arokia, Hima Das and M.R. Poovamma, claimed the silver medal, even as Pincky Balhara clinched silver, while Malaprabha Jadav settled for the bronze in the women's 52kg category of the kurash competition.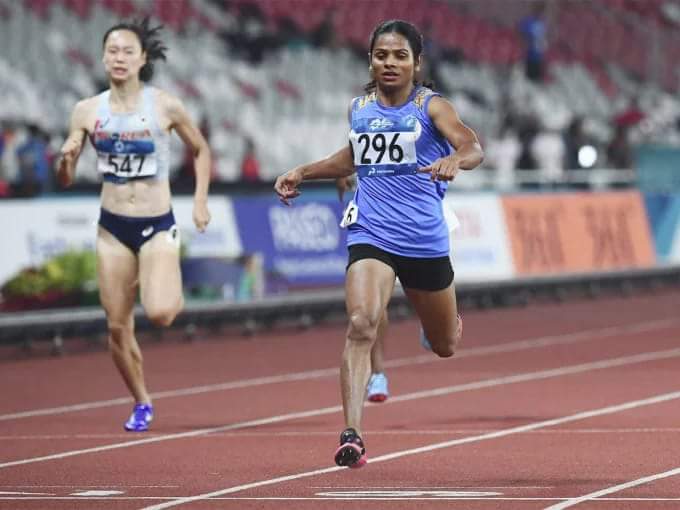 Among other success stories of the day, Indian men's hockey team thrashed Sri Lanka to top Pool A and reach the semi-finals, while Dutee Chand stormed into the women's 200 metres final after topping the semi-finals.
However, India endured defeats in the gold medal matches in archery to teams from South Korea. While the Indian women's team of Muskan Kirar, Madhumita Kumari and Jyothi Vennam lost 228-231, the men's team comprising Rajat Chauhan, Aman Saini and Abhishek Verma lost in the final which ended in a shootout after both teams were locked 229-229.
Sindhu also had to settle for a historic silver after going down 13-21, 16-21 in just 34 minutes to World No.1 Tai Tzu-ying of Taiwan in the women's singles final.
The defeat meant that Sindhu became the first Indian to win an individual silver medal in badminton at the Asiad. It was also the first Asiad individual medal for Sindhu.
It was Sindhu's third loss in the finals of major competitions in 2018, after defeats at the Commonwealth Games and the World Championships.
In athletics, 28-year-old Manjit ended India's 36-year drought in men's 800-metre competition with a timing of 1:46.15s, 0.20s faster than Jinson, the Asian Championship medallist from Kerala.
With four of the eight athletes running parallelly, Manjit shocked everyone as the Haryana athlete displayed a stunning run in the final 40 metres.
Meanwhile, there was more good news for India from the mixed 4X400 metres relay competition as Muhammed Anas, Rajiv Arokia, Hima Das and M.R. Poovamma claimed the silver by clocking 3:15.71s to finish second behind Bahrain, which grabbed the gold medal in 3:11.89s.
On the other hand, Dutee remained in the hunt for her second medal here as she timed 23.00 seconds, as rising star Hima was disqualified following a false start.
In the women's 5,000-metre race, L. Suriya and Sanjivani Baburao Jadhav finished fifth and seventh.
In table tennis, Indian men's team had to be content with a first-ever bronze medal following a 0-3 loss to South Korea in the semi-finals. G. Sathiyan, Achanta Sharath Kamal and Anthony Amalraj went down fighting in their respective matches.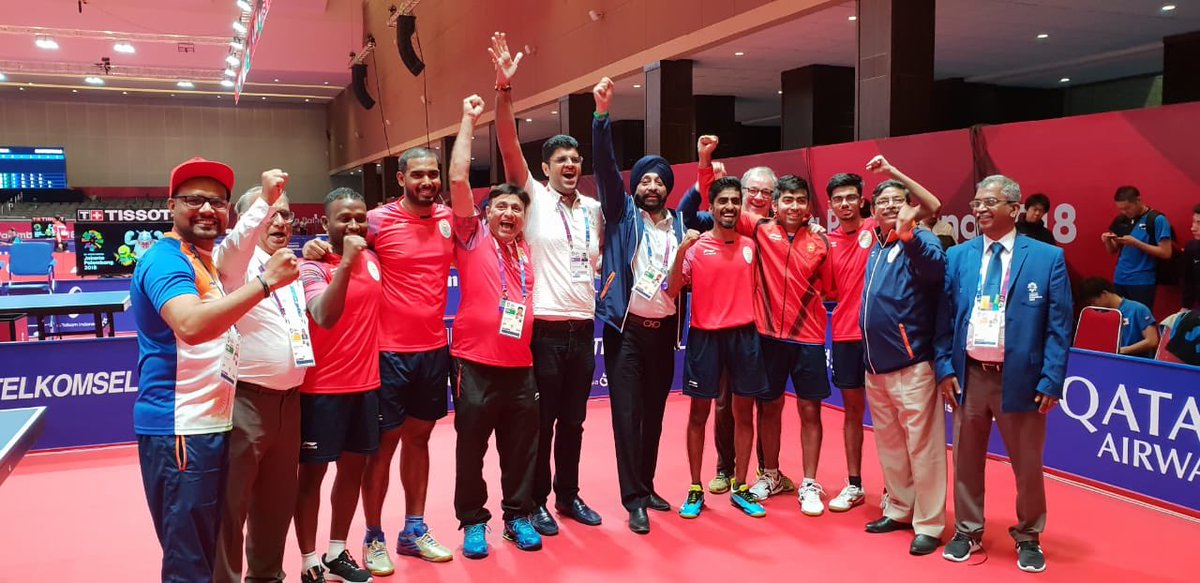 The South Koreans took the lead when Sathiyan lost 11-9, 9-11, 3-11, 3-11 to Lee Sangsu in the opening match. Kamal gave a tough fight to Jeoung Sik before going down 9-11, 9-11, 11-6, 11-7, 8-11 while Amalraj lost 5-11, 7-11, 11-4, 7-11 to Jang Woojin.
"It was good to go home with a medal. All team members are more than happy to reach the podium," Sharath said.
With both Sangsu and Jeoung Young Sik figuring among the top 10 in world ranking, it was a tough ask for the Indians to do what they did against a depleted Japanese squad in the semi-finals.
India also clinched two medals in the debut Asiad discipline of kurash, with Pincky outclassed 10-0 by world and Asian champion Gulnor Sulaymanova of Uzbekistan in the final. Gulnor had earlier thrashed Malaprabha 10-0 in the semi-finals.
In hockey, striker Akashdeep Singh scored six goals, while Rupinder Pal Singh, Harmanpreet Singh and Mandeep Singh struck thrice each as India fired 20 goals past Sri Lanka. Lalit Kumar Upadhyay netted two goals while Vivek Sagar Prasad, Amit Rohidas and Dilpreet Singh scored one each. India will now face Malaysia in the semi-final on Thursday.
In squash, India's men's and women's team remained in firm contention to reach the semi-finals with group stage wins on Tuesday.