Dhaka, Aug 25 (IANS) Tens of thousands of Rohingya refugees held protests here on Saturday, demanding justice on the first anniversary of Myanmar's crackdown that forced them to flee to camps in neighbouring Bangladesh.
Protesters in the world's largest Kutupalong refugee camp in Bangladesh rallied for justice and brandished a banner proclaiming: "Never Again".
More than 700,000 of the minority community fled to Bangladesh after a crackdown by the Myanmar military in August 2017 that the UN has likened to "ethnic cleansing with signs of genocide through killings, rapes and the razing of houses that year".
But the Myanmar government said it was fighting militants from the Arakan Rohingya Salvation Army (ARSA) and was not targeting civilians.
#Rohingya women demanding justice for the slaughter which started on 25 August 2017. This protest in Lombashia, Kutupalong. #Genocide pic.twitter.com/fNIGxFDDml

— Shafiur Rahman (@shafiur) August 25, 2018
"The Myanmar military raped and killed our women, destroyed our properties," Rakib Hossain told BBC Bengali. "They have to be punished. We want justice."
Ashiya Begum, whose husband was killed during the violence in Rakhine, called camp life "miserable". "We can't continue like this. Let us go home," she said.
There were also religious services, with an imam reportedly asking God in his sermon to return Rohingyas to their homeland "to see our parents' graves".
Meanwhile, the UN renewed its appeal for aid for Rohingyas and called for support for the stateless refugees.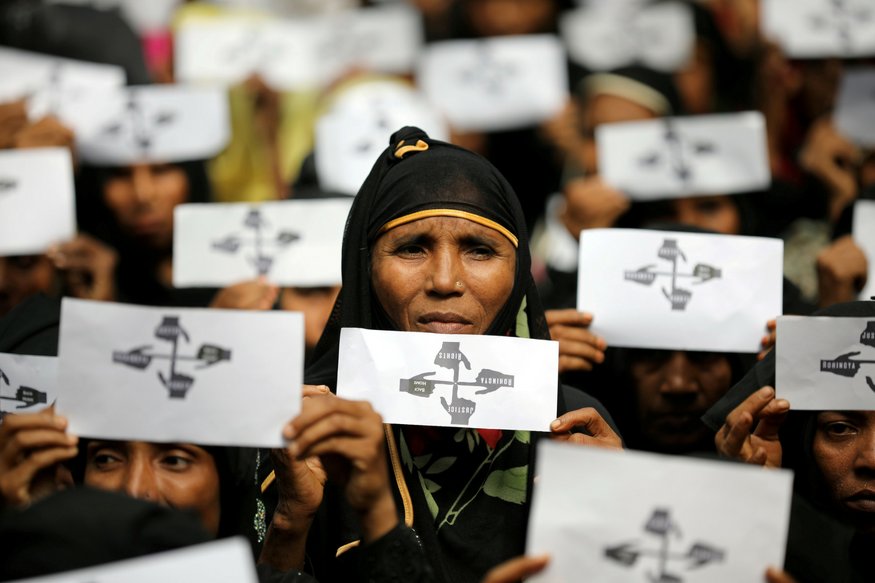 "Kutupalong settlement in Cox's Bazar today shelters more than 600,000 refugees, making it the largest and most densely populated refugee settlement in the world," said the UN Refugee Agency UNHCR.
"Over the past year, UNHCR teams have been working to support Bangladeshi authorities in areas including psycho-social counselling, prevention of sexual and gender-based violence, identification of and assistance to separated and unaccompanied children and other vulnerable refugees," the agency said.
It also said the joint response plan launched in March 2018, appealing for $951 million for the period from March to December 2018, was only one-third funded.
The World Health Organization said that the biggest challenge was "the need to further scale up services to meet the health needs of this highly vulnerable population".
In a statement on the anniversary, ARSA affirmed its intention to continue with the fight to allow the Rohingyas to return to Rakhine, and accused the Myanmar authorities of looking to destroy their people.
In a Rakhine village, the situation was calm on Saturday but there was a strong presence of border police and soldiers, a Muslim Rohingya man told Efe news.
The man said he has no freedom of movement and was closely monitored along with the rest of the community.
The Myanmar government has agreed a deal with Bangladesh to repatriate refugees but few have returned, with Rohingya leaders saying they would not go back unless they could guarantee their safety.
Myanmar's leader Aung San Suu Kyi has faced international outrage for not condemning the Army's actions in Rakhine state.
A predominantly Buddhist country, Myanmar denies Rohingyas citizenship. The government even excluded them from the 2014 census and refused to recognize them as a people.