Prem Prakash Singh, alias Gangster Munna Bajrangi, who was imprisoned for killing Krishnand Rai, a BJP MLA, was shot dead inside the Baghpat jail premises in Uttar Pradesh on Monday. The shocking incident inside the high security prison took place in the morning around 6.30 at the District Jail, Baghpat when prisoners came out for their morning tea.
Munna Bajrangi was transferred hardly 24 hours ago under a tight security from Jhansi to Baghpat jail and was to be produced in a local court on Monday. He was allegedly shot dead by another gangster Sunil Rathi inside Baghpat jail, hours before he was to be produced in a local court in an extortion case of a former BSP legislator. He was lodged in the prison for allegedly killing the BJP MLA Krishnanand Rai in 2005.
Additional DG (Law and Order) Anand Kumar while briefing to media said, "As many as 10 used cartridges, 2 magazines and 22 live cartridges have been recovered." The weapon, used in the murder was a 0.762 imported pistol which was later on recovered from a drain.
Bajrangi, a class 5 dropout was a 51 year old notorious gangster from Jaunpur of Eastern Uttar Pradesh. He came into the world of crime at a young age of 17 after being booked for possessing illegal arms. He later joined Gajraj Singh's gang in Jaunpur to make a mark in the world of crime. Munna Bajrangi came into the limelight when he carried out his first major crime in 1984 after he killed a businessman. He also allegedly murdered BJP leader Ramchandra Singh. Bajrangi, was considered the right-hand man of another dreaded gangster Mukhtar Ansari whose influence run all over entire eastern Uttar Pradesh. Mukhtar Ansari is a mafia don-turned-politician who joined politics in 1996 after he became an MLA from Mau on a Samajwadi Party (SP) ticket. Bajrangi as an important member of Ansari gang ran his extortion business and grabbed government contracts.
The gang rivalry between Ansari and Brijesh Singh, another gangster in the region, led to the murder of BJP leader Krishnanand Rai. Rai was giving protection to Brijesh Singh which was proving a big hurdle in Ansari's criminal activities. In 2001, Brijesh Singh and his gang members ambushed the Mukhtar Ansari gang on Mau-Lucknow highway and three gang members from each side died in the crossfire.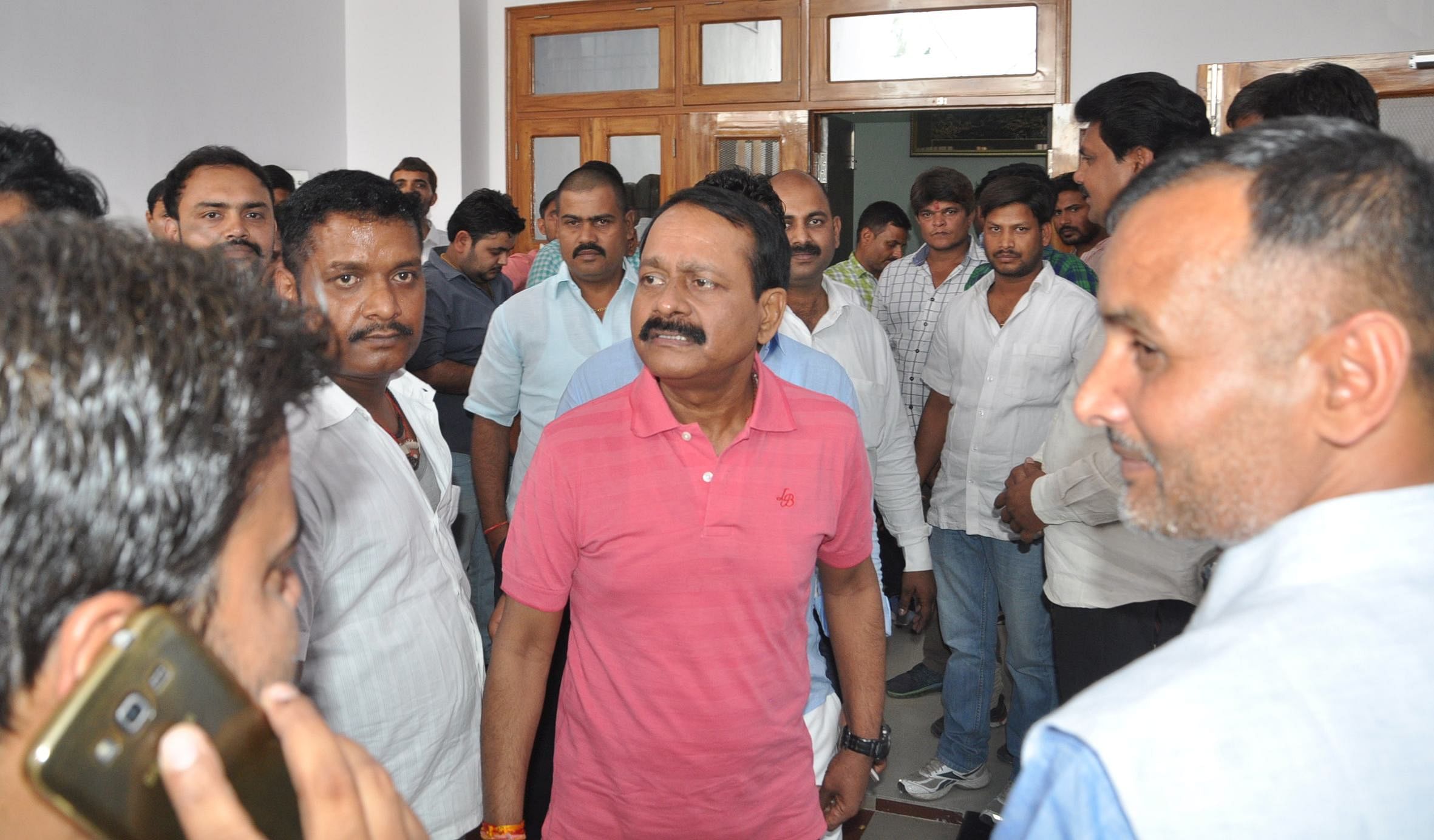 Rai was murdered in the broad daylight by Bajrangi and his gang in 2005. The gangster from Jainpur reportedly pumped 100 bullets in BJP MLA's body and as many as six AK-47 rifles were used. After that incident, it became difficult for Bajrangi to remain in UP and to evade arrest Bajrangi left Uttar Pradesh and tried to spread his network in Delhi threatening the local businessmen. He was on run and reportedly took shelter in Maharashtra, Gujarat, Chhatisgarh, Daman, Rajasthan, Orissa, West Bengal and Bihar besides Nepal and other Gulf countries.
Four years after BJP MLA's killing and announcement of Rs 7 lakh reward on his arrest, the crime branch of Delhi police traced his movement in Malad area of Mumbai and finally on September 16, 2009, the team located his hideout and picked up one of his associates called Mahender aka Shetty aka Bala. He spilled the beans and told about Bajrangi's whereabouts and subsequently a trap was laid and he was arrested from Mumbai -Surat Highway near Chinchoti. It is believed that fearing an encounter, Bajrangi himself planned his arrest and since then, he has been kept in different jails. Bajrangi had claimed that he had killed at least 40 people in a span of 20 years.
Sources said that a leader from Eastern UP, who thought Bajrangi and Mokhtar's gang as a potential threat to the Party in the region, particularly after Bajrangi orchestrated killing of series of BJP leader, was looking for an opportunity to eliminate Bajrangi. Besides Bajrangi, his mentor Mokhtar's family also apprehended that the don will be eliminated in Banda jail and made a request to shift him to Lucknow jail.
Bajrangi also dabbled briefly in politics when he fought in the assembly elections of Uttar Pradesh in 2012 while being imprisoned in the Tihar Jail. He fought from Mariyahu as a joint candidate of Apna Dal and the Peace Party and came third, polling 12 % lesser votes than the winner Shraddha Yadav of Samajwadi Party.
It may be interesting to mention that Bajrangi wanted to become a gangster like those shown in Bollywood films. As per police records, he committed his first murder in 1984 and within days he murdered a BJP leader Ramchandra Singh, who was a local block Pramukh.
Munna Bajrangi, once had a close save and escaped death when the Delhi police and Special Task Force (STF) of Uttar Pradesh shifted him to hospital after firing 10 bullets in his body on September 11, 1998, but he later survived the attack but after a gap of 20 years he wasn't as lucky and fell prey to bullets by another listed gangster of Western Uttar Pradesh Sunil Rathi and that too in judicial custody.
Parkash Singh, who served as DGP of UP from 1991 to 1993, told FinancialExpress.com that state government must set up an inquiry to ascertain if the jail authorities were behind the conspiracy to kill the mafia Don. He also called for urgent reforms in the manner in which jail security is dealt with. He added that there is a need for urgent reforms to address the several issues that are going inside our jails.
Seema Singh, wife of slained Gangster while talking to the press on 29th June had said, "I want to tell UP CM Adityanath ji that my husband's life is in danger. A conspiracy is being hatched to kill him in a fake encounter." Last year, Chief Minister Yogi Adityanath had ordered the transfer of 48 criminals from their present jails to other prisons across the state. Bajrangi, along with gangster-turned-politician Mukhtar Ansari, was one of them. Munna Bajrangi was that time transferred to Pilibhit jail.
A needle of suspicion points towards the present Govt because the dead gangster had no direct rivalry with Sunil Rathi as they met for the first time less than 24 hours ago. Now the questions which should be investigated by the probing team is whether the killing was purely because of Bajrangi's increased clout in the Western UP crime world or whether someone close to power had orchestrated his killing inside the jail by conveniently using another gang lord to avenge some old killings by Bajrangi.
According to a reliable source, the killing of Bajrangi was planned at the behest of a senior saffron leader to avenge the series of sensational murders of Bharatiya Janta Party leaders, by Munna Bajrangi and his mentor, Mukhtar Ansari.
A judicial inquiry into the incident has been ordered by the state Govt and the jailor has also been suspended. Chief Minister Yogi Adityanath said. "Such an incident occurring inside the jail premises is a serious matter. We will conduct an in-depth investigation and a strict action will be taken against those responsible," Though, it's normal on the part of Chief Minister to make such a politically correct statement, we wonder if the conspiracy behind the killing of Munna Bajrangi will be ever known.