Chandigarh, Aug 29 : The ungodly acts of rapist Dera Sacha Sauda (DSS) sect chief Gurmeet Ram Rahim Singh and his penchant for making films and acting as the hero in them has got him harsher punishment from a Central Bureau of Investigation (CBI) special court.
The disgraced self-styled godman was on Monday sentenced by CBI special court judge Jagdeep Singh to rigorous imprisonment for 20 years and a fine of over Rs 30 lakh. He was sentenced to rigorous imprisonment of 10 years each for the rape of his two female disciples. The sentences will run consecutively.
The judgment, a copy of which is with IANS, stated: "Both the prosecutrix/victims put the accused/convict on the pedestal of 'god' and revered him like that only. However, convict committed breach of gravest nature by sexually assaulting such gullible and blind followers."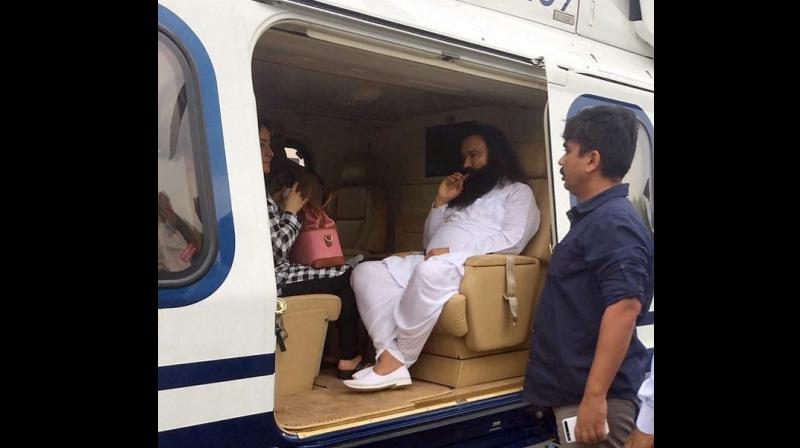 "Such criminal acts of a particular individual/convict, who is heading a religious organisation known as Dera Sacha Sauda, Sirsa, are bound to shatter the images of pious and sacred spiritual, social, cultural and religious institutions existing in the country since time immemorial, which in turn reflects irreparable damages caused by the acts of the convict to the heritage of this ancient land," the judgment added.
The CBI judge took note of the activities and opulence of the rapist sect chief to decide on the quantum of compensation to the two female disciples (sadhvis), who were his victims.
Taking note of the self-styled godman's latest penchant for making films, the court observed: "It is also a matter of record that during the course of trial, convict moved several applications seeking permission to visit abroad for the purpose of promotion of films directed and produced by him. While moving the aforesaid application, accused/convict himself pleaded that millions of rupees were spent/invested in producing such films, for the promotion of which he had sought permission to visit abroad and had visited many times and all these facts clearly establish that convict has no dearth of wealth and is a man possessing huge pelf and has enough financial resources to compensate the victims of his criminal acts."
It further held: "This court is of the considered view that when the convict did not even spare his own pious disciples and had acted like a wild beast, he does not deserve any mercy. In other words, a man who has no concern for humanity, nor has any mercy in his nature, do not deserve leniency from the court."
The sentencing was done at a makeshift court inside the District Jail premises at Sunaria near Rohtak, where the sect chief has been lodged since August 25.
The rapist godman was in tears and begged for mercy when he was sentenced.
The conviction verdict on Friday had led to large-scale violence in Panchkula, adjoining Chandigarh, and Sirsa in Haryana by sect followers which left 38 people dead and 264 injured.
By : Jaideep Sarin
(Jaideep Sarin can be contacted at [email protected])