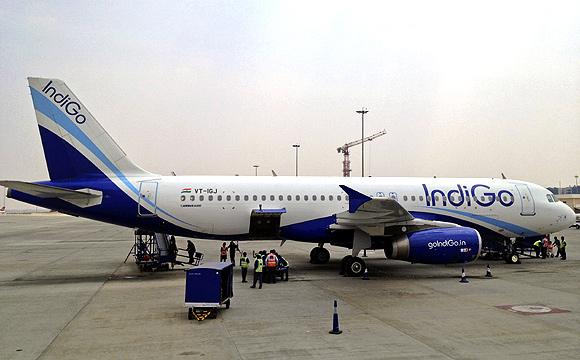 Budget passenger carrier IndiGo reported a rise of 23.7 percent in its net profit for the third quarter.
According to the airline, its net profit stood at Rs.657.28 crore from Rs.531.56 crore earned in the corresponding quarter of last fiscal.
IndiGo's total revenue increased by 11.9 percent to Rs.4,407.49 crore in the quarter under review from Rs.3,938.78 crore reported during the like period of 2014-15.
"Our business continues to perform well on the back of increase in fleet size, robust passenger demand and low fuel prices," said Aditya Ghosh, president and whole-time director, IndiGo.
"Lower fuel prices enabled us to lower our fares to our customers further stimulating market demand and increasing the propensity of people to travel."
The company's load factor stood at 84.6 percent from 81.2 percent. It ferried 27.6 percent more passengers in the quarter under review which stood at 0.83 crore from 0.65 crore during the corresponding period of last fiscal.
Further, the budget passenger carrier reported a positive EBITDAR (earnings before interest, taxes, depreciation, amortization, and restructuring or rent costs) at Rs.1,672.89 crore from Rs.1,282.96 crore during the corresponding period of last fiscal.
The EBITDAR margins for the quarter under review stood at 38.9 percent
The IndiGo total expenditure during the quarter under review rose by 9.1 percent at Rs.3,474.59 crore from Rs.3,186.17 crore during the quarter ended December 31, 2014.
Expenditure-wise, fuel cost which constitutes nearly 40 percent of the total operating cost fell by 19.8 percent at Rs.1,165.86 crore from Rs.1,453.51 crore in the corresponding previous quarter.
In addition, the company disclosed that as of December 31, 2015 it had a total cash of Rs.5,746.3 crore comprising of Rs.2,097.4 crore of free cash and restricted cash of Rs.3,648.9 crore.
The total debt was Rs.3,930.2 crore, all of which is aircraft related. The company reported that it had no working capital debt.
Recently, IndiGo had completed its initial public offering and listed its shares on 10th Nov, 2015. IndiGo raised Rs.3,017 crore from the process.
The company had the largest market share of 35.6 percent during December, 2015.
Currently, the airline has a fleet of 100 new Airbus A320 aircraft. It offers 647 peak daily flights connecting 34 domestic and five international destinations.