New Delhi, May 15 : Overjoyed BJP workers and supporters broke into brief jigs and raised victory slogans at the BJP headquarters here until Tuesday noon as initial counting trends indicated the party getting a majority in Karnataka. But the fervour dimmed as the party's numbers dipped and it became clear that the state was headed for a hung Assembly.
When the trends showed that the Bharatiya Janata Party (BJP) is securing 106 seats in Karnataka, hundreds of party workers assembled outside the gates of the Pandit Deen Dayal Upadhyay Marg office and started celebrating victory by bursting crackers and dancing to the tune of drums.
Dressed in the party's saffron and green colours, the workers also raised slogans of "Har Har Modi, Ghar Ghar Modi" and "Bharat Mata ki Jai". Some carried placards with pictures of Prime Minister Narendra Modi and BJP chief Amit Shah. Many party workers wore saffron turbans.
Anticipating victory, several BJP leaders, including Union Law Minister Ravi Shankar Prasad and Defence Minister Nirmala Sitharaman, Human Resource Development Minister Prakash Javadekar and Union Minister of State for Development of North Eastern Region Jitendra Singh, reached the party headquarters.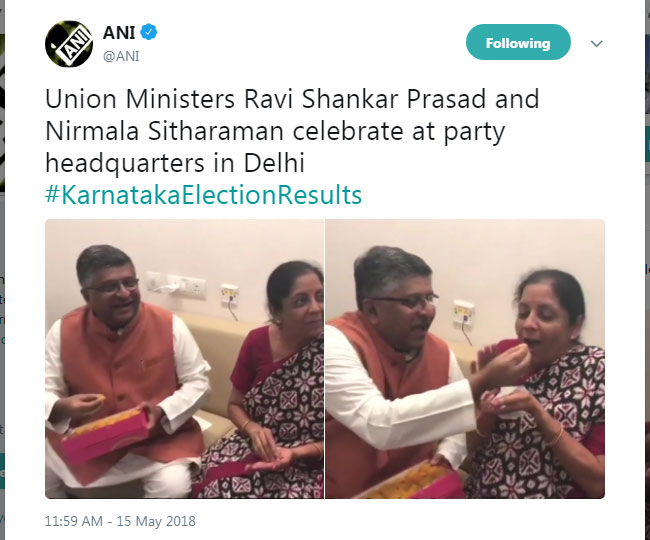 They described the "victory" as an endorsement of Modi's development agenda and Shah's strategy.
The leaders slammed the Congress for running a toxic and negative campaign and said the people of Karnataka had chosen the BJP's development agenda over the Congress's divisive agenda.
But the whole scenario changed in the afternoon as TV screens showed the party's count dropping and that of the Congress increasing. With the BJP numbers coming down to 105 from 120, the drum beats and celebrations stopped and the union ministers, as well as the party's national spokespersons, left the headquarters.
The smiles on the faces of party workers also dimmed but they drew satisfaction from the BJP emerging as the single-largest party with 104 seats.
The smiles again returned to the party office after Modi and Shah came to mark the party's performance.
Party leaders earlier took several potshots at the Congress.
Sitharaman said: "It is a historic day for the party and the win is an endorsement of Modi's development agenda.
"People have rejected divisive, toxic and negative politics of the Congress and chosen Modi's development agenda."
Prasad took a swipe at Congress President Rahul Gandhi, saying somebody was dreaming of becoming Prime Minister, a reference to his statement during the Karnataka poll campaign that he was ready for the job if his party emerged victorious in the next Lok Sabha elections.
Javadekar said the BJP won because it is a party of the masses while the Congress "is a dynastic party".
By : Rajnish Singh
(Rajnish Singh can be contacted at [email protected])