Armed with ample defence, Congress President Sonia Gandhi and party Vice President Rahul Gandhi are set to appear in a Delhi court in the National Herald case on Saturday.But before Gandhis' apperance in court, a notice issued  in Lucknow-based newspapers announcing an Extraordinary General Meeting of the Associated Journals Ltd (AJL) on January 21, 2016.
The Gandhis and five others — Suman Dubey, Moti Lal Vohra, Oscar Fernandes, Sam Pitroda and Young India Ltd will appear before Metropolitan Magistrate Lovleen Singh on December 19 at 3 pm in response to summons issued against them on a complaint by BJP's Subramanian Swamy against them for alleged cheating and misappropriation of funds in taking control of the now-defunct National Herald newspaper.
AJL Managing Director Motilal Vora (one of the seven summoned by the Delhi court), proposes to seek the approval of 762 shareholders for turning AJL into a Section 8 company under the Companies Act, 2013.The meeting, the notice said, will be held at 1, Bisheshwar Nath Road, Kaiserbagh, Lucknow.
"As such, the Board has decided to take necessary steps to convert the company into a not-for-profit Section 8 company under the Companies Act, 2013. To effectuate this object and purpose, notice is hereby given that an Extraordinary General Meeting of Members of The Associated Journal Limited will be held on Thursday, 21st January, 2016," the notice stated.
Saturday is going to be a day of high political developments as  Gandhis' lawyers are present in the court  with bail bonds.The Patiala House court complex has been converted into a virtual fortress with the deployment of 500 to 700 SPG (Special Protection Group), Delhi police and CRPF personnel in view of security concerns.
It is quite evident that  Sonia Gandhi, Motilal Vora, Suman Dubey and Oscar Fernandes will be applying for bail. But Rahul Gandhi may not opt for bail like former prime Minister Indira Gandhi was arrested on 4th October 1977 in connection with an alleged financial scam called "the jeep scam" in which  companies were pressurized for  giving 104 jeeps for campaigning.
Massive Show of strength by Congress
All Congress MPs  will assemble at the Congress Headquarters at 1 pm and party leaders Kapil Sibal or Abhishek Manu Singhvi will brief at the court premises.
Victims of the dirty tricks of Modi government
A combative Sonia and Rahul Gandhi  had accused the Modi government of pursuing "political vendetta" against them in the National Herald case while the party alleged that such cases are being pushed as the BJP wanted a "Congress-free" India.Sonia said "I am the daughter-in-law of Indira Gandhi and I am not afraid of anything".
LIVE UPDATES OF NATIONAL HERALD CASE
The more Congres will suppress us the more Congress will rise,says Ghulam Nabi Azad
We have full faith in judiciary,says Ghulam Nabi Azad
We have faith in judiciary, all legal options including bail are available:Abhishek Manu Singhvi
Subramanium Swamy is being rewarded with Govt accomodation for his actions,says Congress
Politics of revenge is being pursued by Modi govt: Surjewala
Sachin Pilot is leading the protest in Jaipur
Congress workers protest in Nagpur
12:37 : "My full support to my mother-in-law and brother-in-law. Politics of vendetta and desperate malicious attempts of defamation, will not be believed: Robert Vadra
12:36 : Robert Vadra writes on Facebook supporting mother-in-law and brother-in-law.
12:35 : Congress members have not been asked to come to the offices but they have come to support their top leaders
12:34 : Robert Vadra and Priyanka Gandhi likely to be present at Patiala house court
12:33 : Congress does not want any 'tamasha' ,says leader RPN Singh
12:32 : Rahul Gandhi reaches 10 Janpath
12:32 : Protests by Congress leaders in some parts of the Delhi, Bhopal and Mumbai
14:10 :
14:30 : Ahmed Pated, Kapil Sibal & Abhishek Singhvi reach court
14:30 : Priyanka Gandhi Vadra at Patiala House Court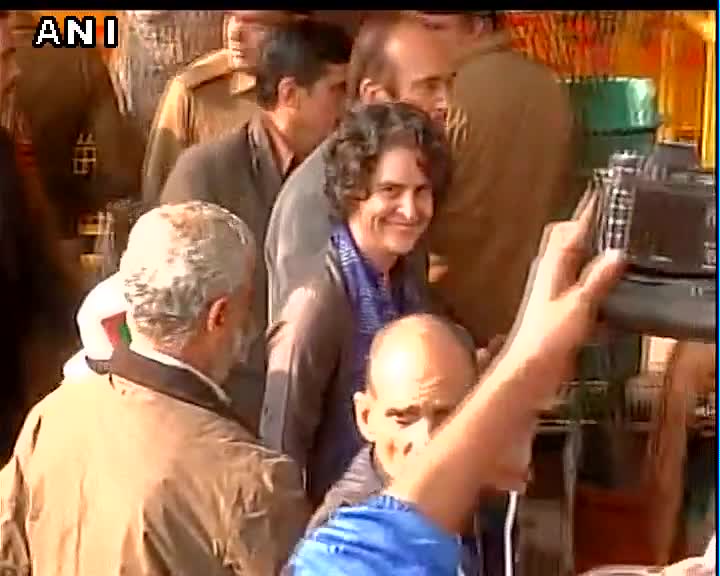 14:38 : Dr.Manmohan Singh,Priyanka Gandhi Vadra,Ghulam Nabi Azad and Mallikarjun Kharge reach court
14:48 : Congress President Sonia and Rahul Gandhi reach Patiala House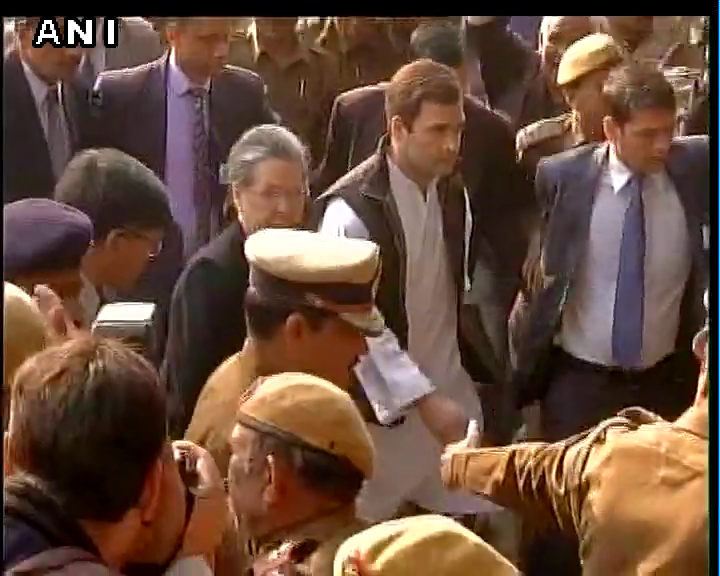 14:50 : Sonia Gandhi and Rahul Gandhi enter Patiala House Court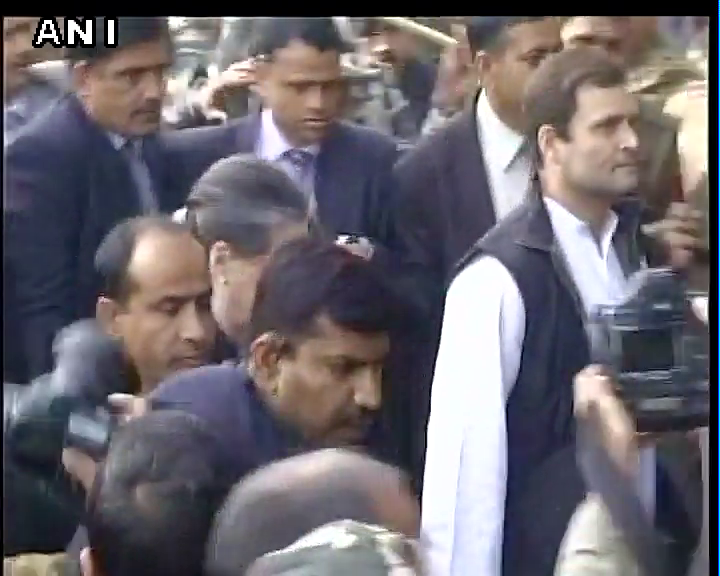 14:55 : Lawyers inside Patiala House Court raise slogans in support of Gandhis #NationalHerald 
14:55 : Kapil Sibal starts argument #NationalHerald 
14:59 : FLASH: Bail granted to Gandhis #NationalHerald 
15:01 : Bail for Gandhis: Bail granted on Rs50 thousand personal bond and one surety each
15:09 : Kapil Sibal speaks to media after hearing
"One application was moved on behalf of all accused. Court was kind enough to grant bail and put no condition except for surety. Dr Swamy argued to put conditions on bail but judge didn't agree," he said.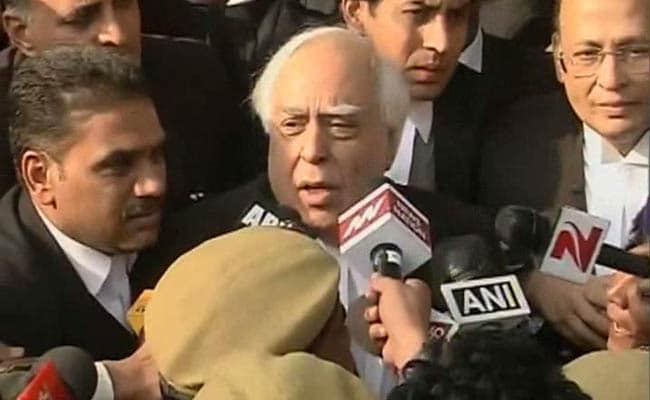 15:09 : Abhishek Manu Singhvi speaks to media after hearing
"Unfortunate that Swamy asked for restrictions"
"It is quite sad that Mr Swamy said that there should be restriction on travel. Court didn't agree. Except for Sam Pitroda, everyone was granted bail. He could not come due to health conditions. He was granted exemption," said Abhishek Manu Singhvi.
"All this hype and hoopla was unnecessary through the press. Dr Swamy insisted for passport conditions which was totally unnecessary for those who are deep rooted in our society," he said.