A mob of more than 100 people in Jharkhand's Ramgarh district lynched a 45-year-old Muslim trader on the suspicion of carrying beef in his car on Thursday afternoon.
The incident happened on a day Prime Minister Narendra Modi warned against mob attacks on cattle traders, beef-eaters and dairy farmers, saying killing people in the name of protecting cows is unacceptable.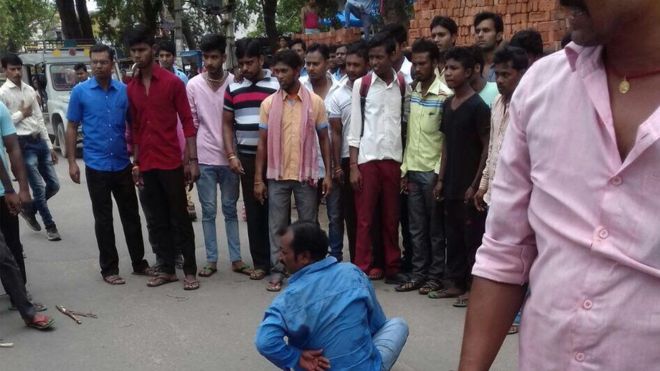 Police said they "rescued" trader Alimuddin aka Asgar Ali from the attackers and he died in hospital.
"Though injured, he was walking then. I think he died of shock," Ramgarh sub-divisional police officer Shashi Prakash said.
Read : Killing people in the name of cows unacceptable: Modi
Pictures circulating on social media showed people hitting the man, meat pieces strewn on the road, and his car in flames. In one photo, a bloodied and dazed Alimuddin was caught minutes before his death.
This is the second attack this June by cow vigilantes in Jharkhand as a 200-strong mob thrashed a 55-year-old Muslim dairy owner and set his house ablaze after a cow carcass was found near his home in Giridih district on Tuesday.
In May, people lynched four Muslim cattle traders at a village in Saraikelka Kharswan district after calling them child traffickers.
Such attacks waged by so-called cow vigilantes in India have targeted mostly Muslims. Cows are considered sacred by many Hindus, and slaughtering cattle or eating beef is illegal or restricted across much of the country.
For all the latest Opinion News, download WeForNews App