A gunman firing from a Las Vegas hotel rained a rapid-fire barrage on a huge outdoor concert festival on Sunday night, sending thousands of people fleeing until SWAT units found and killed him. More than 50 victims died, and at least 200 others were wounded, officials said, making it one of the deadliest mass shootings in United States history.
Online video of the attack outside the Mandalay Bay Resort and Casino showed the country singer Jason Aldean performing outside at the Route 91 Harvest Festival, a three-day country music event, interrupted by the sound of automatic gunfire. The music stopped, and concertgoers ducked for cover. "Get down," one shouted. "Stay down," screamed another.
Several SWAT teams were sent to the hotel, and officers reported being pinned down by gunfire, according to police scanner traffic.
#Video así se vivió el tiroteo en las Vegas dentro de un festival de Country #mandalaybay pic.twitter.com/GSk3cdJObP

— José Carlos (@JoseCarlos_RB) October 2, 2017
The police reported clearing out the hotel's 29th floor and working their way up to the 32nd floor. A Twitter post from the Las Vegas Police Department described reports of an "active shooter" near or around the Mandalay Bay casino.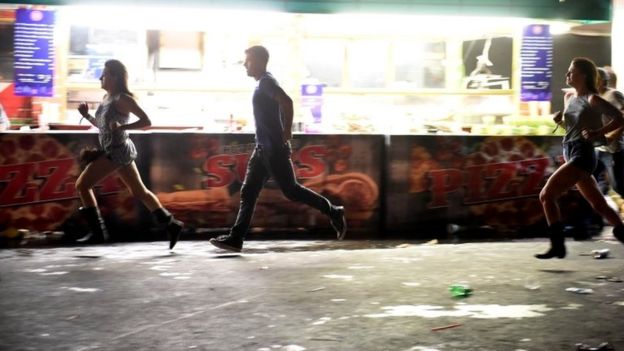 One officer reported that civilians were "trying to take patrol cars," but it was unclear why.
The shooting took place at around 22:30 (05:30 GMT). Witnesses reported that hundreds of shots were fired.
Parts of the area were shut down as armed police arrived at the scene of the attack on the Route 91 Harvest festival.
People have been sheltering in hotels, restaurants and at Las Vegas McCarran airport.