A statement from Apollo hospital said that the CM is being treated by a team of experts.
Tamil Nadu Chief Minister and AIADMK leader Jayalalithaa was shifted back to the Intensive Care Unit (ICU) of the Apollo Hospitals here after she suffered a cardiac arrest on Sunday evening. Initial reports suggested that the Chief Minister was put on life support system though hospital sources maintained that her condition was "stable".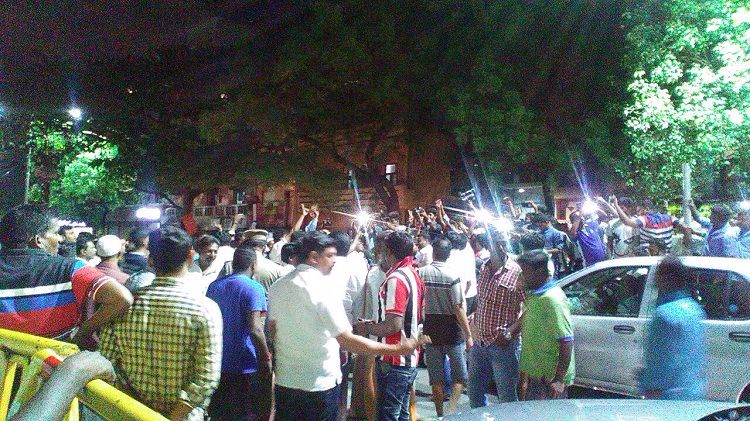 A late evening press released issued by Apollo Hospitals COO Subbiah Viswanathan said, the Chief Minister "suffered a cardiac arrest this evening. She is being treated and monitored by a team of experts including cardiologists, pulmonologist and the critical care specialists."
Maharashtra Governor Ch. Vidyasagar Rao, who is holding additional charge of Tamil Nadu, is expected to arrive in Chennai at around 11 pm from Mumbai. It was not immediately known is his return to the State capital was scheduled or due to the Chief Minister's ill health.
Ms Jayalalithaa, who was admitted to the Apollo Hospitals on the night of September 22, with "low grade fever and dehydration", was subsequently under intensive treatment from specialists and moved to a private ward only on November 19.
Several State Ministers, the Chief Secretary and top bureaucrats rushed to the hospital while Tamil Nadu Director-General of Police T.K. Rajendran who was in Madurai for a review meeting air-dashed to Chennai, advancing his scheduled trip. An emergency meeting was called at the police headquarters late on Sunday.
The entire police strength, including companies of the Armed Reserve and Tamil Nadu Special Police, was being mobilised as a precautionary measure.
Though no formal request was made yet, companies of the Central Reserve Police Force in Tamil Nadu and neighbouring States were put on alert, the sources said.
Earlier following her hospitalisation, besides doctors at the Apollo Hospital, Dr Richard John Beale, expert in lung injuries and intensive care management, United Kingdom and specialists from the All India Institute of Medical Sciences (AIIMS), New Delhi, were part of the treatment protocol. Earlier this evening an AIIMS expert team had confirmed that the Chief Minister had recovered after over two months of hospitalisation, AIADMK said.