In years to come, when this stadium is a crumbling white elephant, they will sit in almost empty stands, hear the wind whisper across the marsh that surrounds it and believes what they can hear is the ghosts of giants.
In three games, Kazan has claimed the winners of 11 World Cups. First Germany went, insipid against South Korea. Then, in a full-blooded epic, Argentina was blown away by France. And then fell the biggest of all, Brazil, outwitted and outbattled by Belgium, who will face France in Tuesday's semi-final.
Brazil had chances. A few ricochets in the box did not fall their way. The hysteria that always surrounds them, the sense of desire and expectation, perhaps becomes at times inhibitive. Tite, almost certainly, will be blamed, because that is what managers are for, but his half-time switch to a 4-4-2, bringing on Roberto Firmino in place of Willian and shifting Gabriel Jesus to the right, did improve matters.
The problem was that by then they were already 2-0 down, having been eviscerated on the break by Kevin De Bruyne. Renato Augusto did pull one back, heading in Philippe Coutinho's chip with 14 minutes remaining but it was not enough.
He may have been almost derided by the end of his time in the Premier League but Roberto Martínez deserves enormous credit for Belgium's victory. His approach was bold, startlingly so, setting out a team who looked like the sort of line-up you would use to chase a game if you were a goal down with half an hour to go – as, of course they had been against Japan in the last round.
Marouane Fellaini and Nacer Chadli, heroes of that comeback, were included and the system was a surprising one: a 4-3-3 with De Bruyne deployed as a false nine and Romelu Lukaku pulling right, seemingly to try to attack the space between Miranda and Marcelo.
Martínez, perhaps, observing how the one goal Brazil had conceded in the tournament had come from a corner headed in by Switzerland's Steven Zuber had decided an aerial assault was the best option.
Both the players he brought in were involved in Belgium's opener and he could perhaps also take credit for his deployment of De Bruyne who, dropping deep, sliced open the defence with a through-ball delicious in every aspect other than the player it released was Fellaini.
His forward clank never seemed likely to result in a goal but it did win a corner and, when Chadli delivered to the near post, Gabriel Jesus and Fernandinho jumped together, the ball deflecting in off the midfielder's right arm.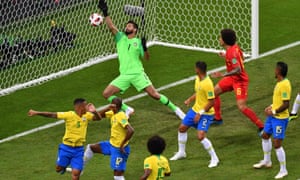 What was really striking, though, was how dangerous Belgium were on the break. They rode their luck to an extent. Thiago Silva bundled an early corner against a post and Paulinho missed his kick when well-placed. Thibaut Courtois made a number of fine saves and bodies were put on the line again and again. But that was always likely to be the case.
This, after all, is a Brazil side who had won 20 of their 25 games under Tite and was averaging more than two goals a game. Belgium were always going to have to endure and survive. They also, though, cut through Brazil over and over again.
De Bruyne, in that withdrawn role, ran the game, Brazil seemingly unable to decide who should pick him up. Hazard and Lukaku, pulling wide, regularly had space to run into. It was Lukaku who was the architect of the second goal, carrying the ball forward from his own half, beating Fernandinho and Paulinho and then laying the ball right to De Bruyne. A step inside, a glance up to measure the strike and the ball was flashing beyond Alisson's right hand into the bottom corner: a brilliant goal and only the first time Brazil had conceded two in a game under Tite.
Neymar, whose antics had made him such a controversial figure in the tournament, was down early, although this time he had taken a clout on the back of the head from one of Fellaini's assortment of elbows. After that, though, his involvement, from a playing point of view, was fitful, so much so that Thomas Meunier was emboldened to make attacking sallies down the Belgian right. There was even, slightly bizarrely, an incident in the second half when he tangled with Fellaini and fell in the box, then seemed to discourage the Serb referee, Milorad Mazic, from checking VAR.
Marcelo, Philippe Coutinho and Neymar had always looked an adventurous left side for Brazil; here, it was overwhelmed by the Belgian right of Meunier, Fellaini and Lukaku. It was not the collapse of four years ago, or anything like it, but it was, again, a Brazil side unable to handle an opponent adept on the counter.
Neymar flickered. Firmino slowly imposed himself. Dives from Gabriel Jesus and Neymar, a Douglas Costa run, the surges of the substitute Augusto could not save them. They could hardly have applied more pressure in the final minutes but an exhausted Belgium, somehow, clung on and Brazil, like Argentina and Germany before them succumbed to Kazan, the graveyard of the greats.