Thousands of farmers have been camping in and outside Delhi to protest against the farm laws passed by the Centre recently. They have been marching from Punjab under the "Delhi Chalo" campaign. As the protests continued, the Central government, which looks after the national capital's law and order, offered to continue their stir at a ground in Burari after rounds of skirmishes with Delhi police.
Union home minister Amit Shah on Saturday appealed to farmers and said his government was ready to hold talks. "I appeal to the protesting farmers that the Union government is ready to hold talks. The agriculture minister has invited them on December 3 for a discussion. The government is ready to deliberate on every problem and demand of farmers," he told ANI.
However, protesting farmers have so far refused to move their demonstration to any other site. "Some of the farmers from the Tikri border had left for the Burari ground but we have called them back," said Jaspal Singh, a farmer leader from Firozpur, who is camping at Tikri border.
Meanwhile, as the demonstrations are taking place amid the Covid-19 pandemic, the Delhi government have set up a testing centre at the ground and is conducting rapid antigen tests for free of cost.
Follow all the live updates here:
10:38 AM IST
Farmers have been treated like terrorists: Sanjay Raut
Shiv Sena MP Sanjay Raut criticises police actions during Delhi Chalo march.
"The way farmers have been stopped from entering Delhi, it looks like as if they don't belong to this country. They have been treated like terrorists. Since they are Sikh&have come from Punjab andHaryana, they're being called Khalistani. It is insult to farmers," Raut said.10:34 AM IST
Centre should withdraw 'anti-farmer laws', says Digvijaya Singh
Senior Congress leader Digvijaya Singh hit out at Prime Minister Narendra Modi over ongoing protests against "anti-farmer" laws and said that the Centre should withdraw these legislations.
Singh added that these laws should be submitted to the Parliamentary Committee for reconsideration after discussing with the farmers.
"If Modi ji had discussed with the farmers before bringing the anti-farmer laws, why would this situation have happened? Modi ji should withdraw these legislations. And again after discussing with the farmers, submit these laws to the Parliamentary Committee for reconsideration," he tweeted in Hindi.10:16 AM IST
Better if Centre reconsiders farm laws: Mayawati
Bahujan Samaj Party (BSP) supremo Mayawati says it would be better if the Central government reconsiders the three newly-enacted legislation, stating that the farmers are agitating throughout the country as these laws were made without their consent.
"Farmers are quite angry and agitating throughout the country, expressing their disagreement about the recently enacted three laws related to agriculture by the Central government. In view of this, if the Union government reconsiders these laws, made without the consent of the farmers, it would be better," Mayawati said in a tweet in Hindi.09:55 AM IST
Commuters face road blockade issue
As farmers continue to stage protest nears Delhi borders, commuters travelling towards national capital form other states face road blockade issues.
"We are facing many problems due to the protest. There is no vehicle for steady communication," said a commuter at Singhu border (Delhi-Haryana border).09:47 AM IST
Farmers sitting peacefully, cooperating till now: Delhi Police
The agitating farmers are sitting peacefully and have been cooperating till now, news agency ANI quoted Surendra Yadav, Joint CP, Northern Range, Delhi as saying.
"Our objective is to maintain law and order and to ensure that the arrangements are in place to facilitate their movement," Yadav also said.09:02 AM IST
Farmers plan to stage protest near Parliament, Jantar Mantar
Farmers continued with their demonstration in Delhi and refused to move to the government suggested venue against the farm reforms.
"Today, we will go to Delhi and stage our protest either near Parliament or at Jantar Mantar. We do not accept govt's proposal and will not go to the allotted ground in Burari," news agency quoted a farmer as saying.
Bharatiya Kisan Union spokesperson Rakesh Tikait said, "Protests happen at Ramlila ground, then why should we go to Nirankari Bhawan, a private facility? We will stay put here today".
07:35 AM IST
High alert at Singhu border as farmers' protest continues
Security personnel stay put at Singhu border (Delhi-Haryana border) as farmers' protest continues.
Image courtesy: ANI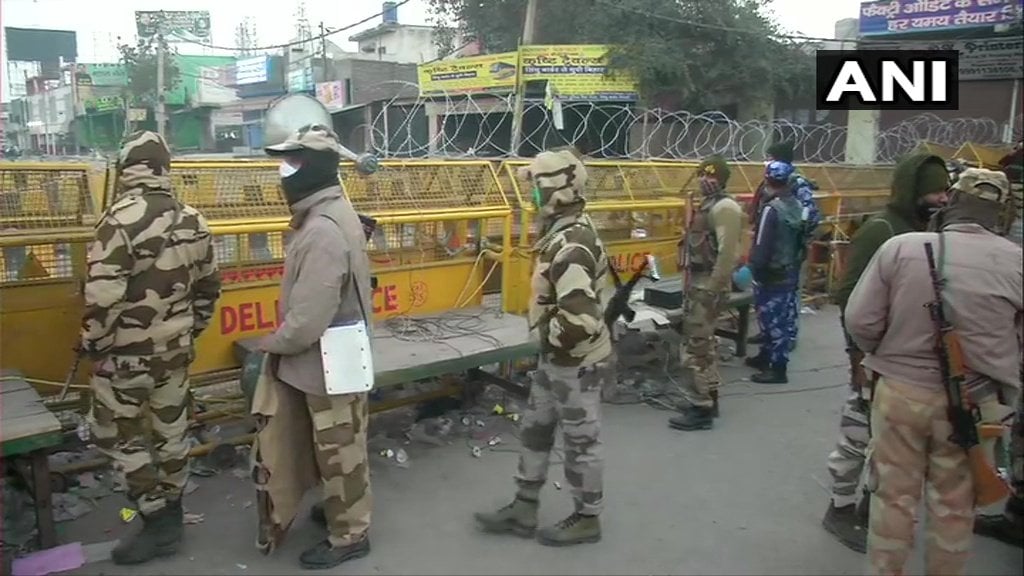 07:00 AM IST
Trains short terminated, short originated or diverted as protest continues
Many trains short terminated, short originated or diverted as the farmers continues to march towards Delhi.
As per Northern Railways statement, the 04650/74 Amritsar- Jaynagar express special journey commencing 29 .11.20 will be diverted to run via Amritsar -Tarntaran – Beas while the 04649/73 Jaynagar -Amritsar express special jco 27.11.20 will be diverted to run via Beas – Tarntaran – Amritsar.06:20 AM IST
Aam Aadmi Party MLA meets farmers protesting at Burari
Aam Aadmi Party MLA Amanatullah Khan on Saturday met farmers protesting at Burari's Nirankari Samagam Ground, the approved site for protest against Farm laws. "MLAs and workers come here to ensure that they don't face any problem of food or stay, we'll take care of it as long as they stay here," news agency ANI quoted Khan as saying.
Image courtesy: ANI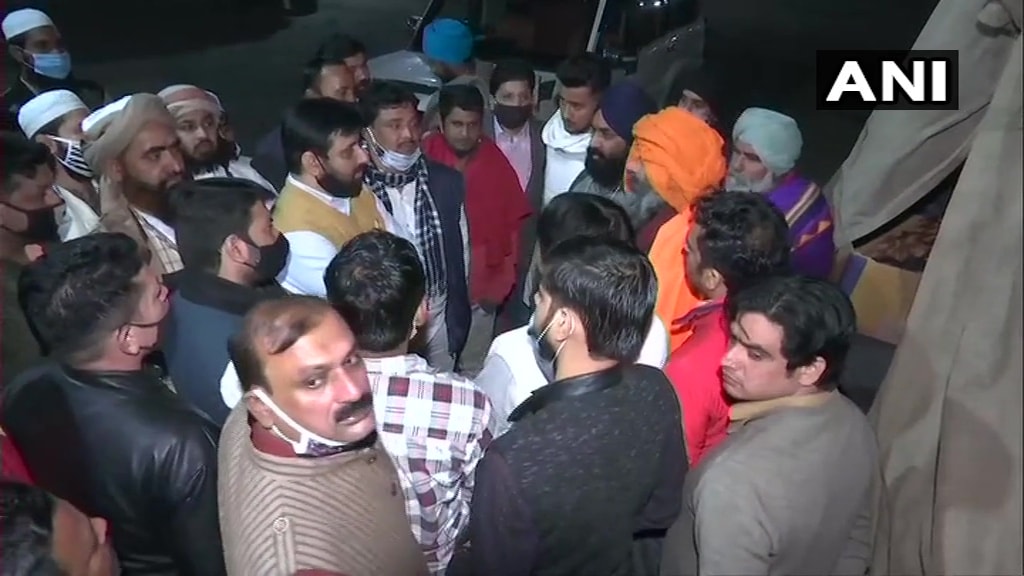 05:35 AM IST
Case registered against BKU Haryana president Gurnam Singh Chaduni in Karnal
A case has been registered against Haryana Bhartiya Kisan Union (BKU) president Gurnam Singh Chaduni for his alleged involvement in the farmers' agitation in the state in protest against the new farm laws.