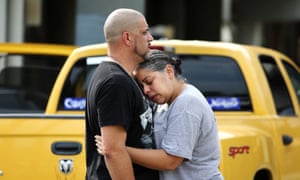 Fifty people have been killed and 53 injured in the Orlando night club shooting, the city mayor said during a press briefing. Police described it as one of the worst mass shootings in nation's history.
The process of removing the victims from the club continues, according to the Orange county sheriff. Some victims of the shooting are undergoing surgery with a number of them in critical condition, hospital officials told journalists during the briefing, Reuters reports.
Fifty people plus the shooter have been killed and 53 more injured in the Orlando night club shooting, the city mayor Buddy Dyer said during the press briefing.
"Today we're dealing with something that we never imagined and is unimaginable," Dyer said.
With 50 people dead, the Orlando shooting has become the deadliest massacre in US history, eclipsing the 2007 massacre at Virginia Tech University, which left 32 dead.
Both the Florida governor and the city of Orlando has declared a state of emergency following the deadly shooting.
The suspect behind the shooting has been identified as 29-year-old US citizen Omar Mateen, US media reported. The CBS network added that the FBI is currently checking whether he was linked to extremists.
The shooter was of Afghan descent and had weapons training, Peter King, US congressman and chairman of the House subcommittee on counterterrorism and intelligence, told US media.