New Delhi, June 17 : A man identified as Nadeem Khan has been charged with sedition for allegedly issuing a death threat to Prime Minister Narendra Modi via a Facebook post. On facebook, Khan threatened to shoot PM Modi.Police has lodged an FIR against him for threatening PM Modi on socila media .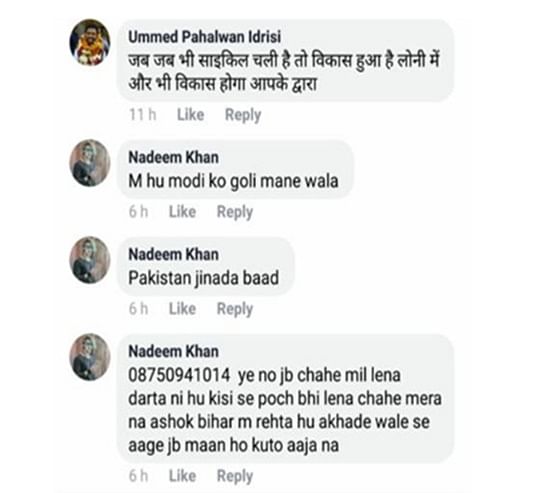 Khan even wrote the slogan of 'Pakistan Zindabad' while commenting on a Facebook post by Loni MLA Nand Kishor Gujjar. The accused also allegedly used foul language against the MLA.
A complaint was lodged against the man by a BJP worker. An FIR under Section 124 A (sedition) of IPC and under Section 66 of the Information Technology was registered.
The complaint lodged by BJP activist Satya Prakash Chaudhary said the man had threatened to shoot the Prime Minister during a comment on a Facebook post by Loni MLA on Thursday. The man has also left his mobile phone number and address in the post. He has mentioned his address to be somewhere in Ashok Vihar. Moreover, this man is keeping a close watch on the MLA's account, which has made the latter uncomfortable.