Updates on Covid-19 from Ministry of Health and Family Welfare:Total recoveries leap up to 7.2 lakh; National Recovery Rate improves to 62.72%; Case Fatality continues to dip further to 2.43%
24,491 COVID-19 patients have recovered during the last 24 hours. This has pushed the cumulative figure of recovered cases among COVID-19 patients to 7,24,577, as on date. The recovery rate has further improved to 62.72%. India continues to have one of the lowest Case Fatality Rates, at 2.43%, which is consistently falling.The gap between the number of recovered cases and active cases has increased to 3,22,048 at present. Presently, there are 4,02,529 active cases and all are under medical supervision.In the last 24 hours, 3,33,395 samples were tested. Cumulatively 1,43,81,303 samples have been tested in the country. This has been possible through ever expanding diagnostic lab network of 1274 labs.
19 States/UTs conducting more than 140 tests/day/million, as advised by WHO; India currently has 8.07% Positivity Rate; 30 State/UTs have lower Positivity Rate than India average
The national average of tests/day/million has substantially jumped to 180, as on date.WHO in its Guidance Note on "Public Health Criteria to Adjust Public Health and Social Measures in the Context of COVID-19" has advised comprehensive surveillance for suspected COVID19 cases. WHO has advised that a country needs 140 tests/day/million population.There are currently 19 State/UTs which are conducting more than 140 tests per day per million. The State of Goa is testing highest at 1333 tests per day per million.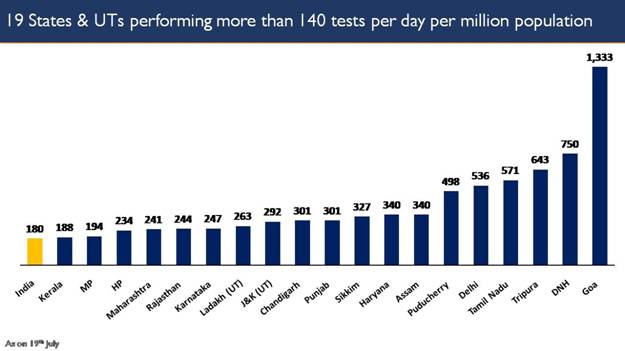 In tandem with increased testing, the Confirmation Rate or Positivity Rate for India is continuously reducing and currently stands at 8.07%. There are 30 State/UTs in India which have lower Positivity Rate than the India average.
Sero-prevalence study conducted by National Center for Disease Control (NCDC), MoHFW, in Delhi in June 2020
Ministry of Health and Family Welfare commissioned a sero-surveillance study in Delhi.This study has been done by the National Center for Disease Control in collaboration with DelhiGovt, following a rigorous multi-stage sampling study design. Study was conducted from 27th of June 2020 to 10th July 2020. For all the 11 districts of Delhi, survey teams were formed. Blood samples were collected from selected individuals after taking written informed consent and then their sera were tested for IgG antibodies and infection. It is one of the largest sero-prevalence studies conducted in the country using the ELISA testing. 21,387 samples were collected as per lab standards and were tested. The test performed is not a diagnostic test but only provides information about past infection due to SARSCoV-2 in individuals who test positive.The results of the sero-prevalence study show that on an average, across Delhi, the prevalence of IgG antibodies is 23.48 %. The study also indicates that a large number of infected persons remain asymptomatic.
HRD Minister launches MANODARPAN initiative of Ministry of HRD to provide psychosocial support to students for their Mental Health and Well-being
Union HRD Minister, Shri Ramesh Pokhriyal 'Nishank' launched the MANODARPAN initiative to provide psychosocial support to students for their Mental Health and Well-beingtoday.Speaking on the occasion, Shri Nishanksaid that COVID -19 is understandably a challenging time for everyone around the world. He informed that the HRD Ministry has felt that while it is important to focus on continuing education on the academic front, the mental well-being of the students also needs to be given equal importance. So, Ministry has taken an initiative, named, 'MANODARPAN' covering a wide range of activities to provide Psychosocial Support to students for their Mental Health & Well-being during the COVID outbreak and beyond. He further informed that a Working Group, having experts from the fields of education, mental health and psychosocial issues as its members, has been set up to monitor and promote the mental health issues and concerns of students and to facilitate providing of support to address the mental health and psychosocial aspects during and after COVID-19 lockdown, through counselling services, online resources and helpline.
PM to deliver keynote address at India Ideas Summit on 22 July
Prime Minister Shri NarendraModi will deliver the keynote address at the India Ideas Summit on 22 July. The Summit is being hosted by the US-India Business Council. This year marks the 45th anniversary of the formation of the Council. The theme for this year's India Ideas Summit is 'Building a Better Future'. The virtual Summit will feature high-level presence from Indian and US government policymakers, state-level officials, and thought leaders from business and society. The Summit will witness discussions on areas including India-US cooperation and future of the relation between the two counties in a post pandemic world.
Ministry of Youth Affairs and Sports partners with UNICEF to strengthen resolve to mobilise 1 crore youth volunteers to achieve goals of Aatmanirbhar Bharat
In a step to realise the vision of Union Minister of Youth Affairs and Sports Shri KirenRijiju to mobilise 1 crore youth volunteers in India and contribute to Prime Minister's call for Aatmanirbhar Bharat, the Ministry of Youth Affairs and Sports signed a Statement of Intent with YuWaah (a multi-stakeholder platform formed by the UNICEF) to work in partnership to promote volunteerism among the youth of India as well as to help them transition from education and learning to productive work, skilling and being active citizens. Speaking about the importance of the partnership, Shri KirenRijiju said that this partnership is very appropriate in these challenging times and will give a strong focus to our existing policies. He said India being such a young country with a huge population, the contribution of the youth in any sphere can make a huge difference, not just in India but at the global platform.
India's first of its kind public EV Charging Plaza inaugurated by Union Power Minister
With a focus on enhancing energy efficiency and promoting e-mobility, Shri R.K Singh, the Minister for Power, New & Renewable Energy, inaugurated India's first publicEV(Electric Vehicle) charging plaza at Chelmsford Club yesterday. Speaking on the occasion Shri Singh said, "The EV charging plaza is a new avenue for making e-mobility ubiquitous and convenient in India. Such innovative initiatives are imperative for the creation of a robust e-mobility ecosystem in the country.'' The Minister also launched "Retrofit of Air-conditioning to improve Indoor Air Quality for Safety and Efficiency" (RAISE) national programme. At the launch, Shri Singh stated that RAISE initiative can potentially alleviate the issue of bad air quality in work spaces across the nation and pioneer ways to make them healthier and greener. He said poor air quality has been a concern in India for quite some time and has become more important in light of the COVID pandemic. As people return to their offices and public spaces, maintaining good indoor air quality is essential for occupant comfort, well-being, productivity and the overall public health.