New Delhi, March 18: Former Prime Minister Manmohan Singh on Sunday launched a scathing attack on the NDA government, accusing it of having "messed up" the economy and also "mismanaging" the situation in Jammu and Kashmir "like never before".  The situation in Jammu and Kashmir is worsening by the day, said Dr. Singh at the party's 84th Plenary session that's being held in New Delhi.
At the 84th plenary session of the Congress, Dr. Singh described the government's demonetisation move as "ill-considered" and the GST as "hastily implemented".
He also said that Pakistan must be warned of its support to terrorism. Calling PM Modi's "promise of two crore jobs" a jumla, Singh said that the government has messed up the economy.
"The BJP-led government messed up the Indian economy. The ill-considered demonetisation and hastily implemented GST have destroyed small scale enterprises," he said.
"The government mismanaged the Jammu and Kashmir dispute like never before. The atmosphere in the State has been deteriorating day by day," he further added.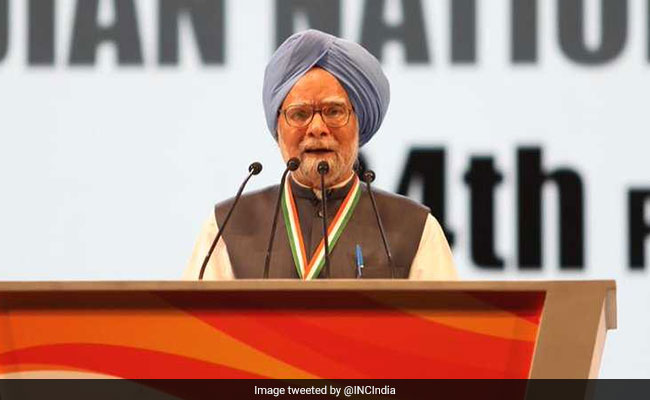 Indicating the tensions inherent in the alliance of BJP and the PDP, parties with a huge ideological gap, Dr Singh said "they have "installed a government where the two wings of the administration are working against each other".
India must recognize the "problems in Jammu and Kashmir" and ensure that these problems are "tackled and sorted", Dr Singh said.
Modi Govt has mismanaged Jammu and Kashmir like never before, the atmosphere is deteriorating day in and day out, its obvious from the fact that our borders are insecure, be it cross border terror or internal: Dr.Manmohan Singh at #CongressPlenary pic.twitter.com/oTk56hbUg9

— ANI (@ANI) March 18, 2018
Dr. Singh also dismissed Prime Minister Narendra Modi's comment about farmers' incomes being doubled. "Modi said farmers' income will be doubled in six years. It is a 'jumla'-type [rhetorical] statement unlikely to be achieved," he said addressing the session.
Taking a dig at Prime Minister, the Congress leader slammed demonetization and the way the Goods and Services Tax was implemented and said the Bharatiya Janata Party had promised to create two crore jobs every year.
"We have not seen even two lakh jobs. Instead, the ill-thought and ill-considered move with regard to demonetization and hastily put forward legislation of GST has destroyed many jobs," he said.
"Modiji himself said we will double farmers income in six years. Now if you have to double farmers incomes in six years, you need a growth rate of 12 per cent at the minimum. And that is unthinkable. Therefore it is one of those statements which is a 'jumla'," Singh added.
The three-day plenary will end on Sunday with address by Congress President Rahul Gandhi.
WeForNews