New Delhi, Dec 29: 2017 has been a phenomenal year for the Virat Kohli-led Indian team. What they have displayed throughout the year is a continuous hunger to win and en route destroyed any opposition which has come in its path. The best part about this dominance displayed by Team India is that not only has it been in Test cricket but also in the shorter formats – ODI and T20I. 
The Indian men's cricket team achieved many highs in 2017 — winning 37 out of their 53 matches across all formats — even as the women hogged the limelight by finishing runners-up at the ICC women's World Cup in London.
The men's team experienced an array of transformations with skipper Virat Kohli taking over the mantle of all the three formats in company of head coach Ravi Shastri, who replaced Anil Kumble after an avoidable battle.
With the change in leadership, the playing style also underwent a change. While win-at-all-costs became the mantra for the new-look Indian team, passing a new "yo-yo" fitness test was made mandatory to get into the national squad.
If statistics are to be taken into consideration, the Kohli-led side missed the 2003 world record set by the invincible Australians by just a single win.
Of the 37 victories, 21 came in One-day Internationals (ODIs) even as India regained their No.1 spot in the longest format, having won seven out of 11 Tests before South Africa pipped them towards the end of the year.
The only heartbreak came during the final of the ICC Champions Trophy when the Men-in-Blue lost to an unpredictable Pakistan.
But one loss at the 50-overs global tournament did not deter the team, which by now had learned to take losses on the chin.
Have a look at Team India's Incredible journey this Year: 
Test Cricket:
In Test cricket, India enjoyed tremendous success as they won 7 matches out of the 11 they played in 2017. Noticeably, they lost just 1 game.
India also became the first team to score more than 600 runs in three consecutive innings in Test cricket. This was after they hit 631, 759 and 687 against England. Test skipper Virat Kohli also registered 3 double-century partnerships with Ajinkya Rahane which is the most by any pair since 2013. In 2017, as many as 6 players scored more than 50 runs in one Test in an innings (against Sri Lanka). This is, in fact, the joint-most for them in an innings.
India then continued their dominanation, defeating Sri Lanka in 2017. India became the first visiting team to post more than 500 runs in two successive Tests in Sri Lanka. It also saw them register a whitewash in an away series of three or more Tests.
ODIs:
In one-day cricket, India played 29 matches and won 21 and lost 7, resulting in a win percentage of 72 which is the most among all three formats. This year also witnessed history as India recorded four wins in a bilateral ODI series for the first time vs Australia. Particularly successful in this format was the opening pair which put up eight-century partnerships this year. This is the most for India in a calendar year in ODIs. Incidentally, this is also a world record in a calendar year.
Among the top run-getter in ODI's Virat Kohli tops the list with 1460 runs in 26 matches. Rohit Sharma is a distant second with 1293 runs
T20I (Twenty-Twenty Internationals) :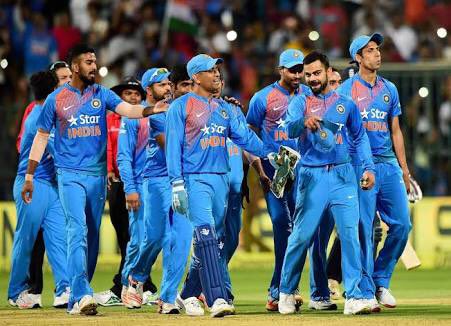 In T20s India played 13 and won 9 and lost 4. Here too the men in blue tasted success in equal measure. In the recently concluded series against Sri Lanka, India won by a margin of 3-0 which in turn was their biggest series victory vs Sri Lanka in T20 Internationals.
Also for the second time in history, India managed to win three matches in a bilateral series — the first instance being against Australia. In T20 cricket India also saw its youngest debutant in Washington Sundar.
India's Yuzvendra Chahal has aLso reserved out a place for himself in T20 history after becoming the highest wicket-taker ( 23 wickets) in T20 cricket in 2017. India also registered its biggest win in T20 cricket after beating Sri Lanka by 93 runs in Cuttack.
India also hold the record for most number of sixes in a T20 innings after slamming 21 of them against the Lankans in Holkar Stadium, Indore.
Records this Year: 
Virat Kohli, Rohit Sharma – The 1000-club men
Both batsmen scored six centuries and enjoyed the best year in terms of career aggregates. Kohli smashed 1460 runs at an average of 76.84 while Rohit piled up 1293 runs, averaging 71.83. Their performances have given Indian batting a big edge. In every series, either of them has played one big knock that has taken the game away from the opposition.
Kohli also the first Indian to score more than 600 runs in three separate Test series.
The cash-rich domestic T20 league (Indian Premier League) then took off and saw Rohit Sharma-led Mumbai Indians lift the silverware for the third time.
Within a week, India regrouped to take part in the Champions Trophy where they thrashed arch-rivals Pakistan in the opener before getting past South Africa and Bangladesh to reach the final which they eventually lost to Pakistan.
But more than the loss to Pakistan, it was the unceremonious exit of Kumble after 12 months of an otherwise harmonious tenure that grabbed the headlines.
The episode could have been handled better, but it was less hurtful and did not derail the team with Kohli's favourite, Shastri, returning to succeed Kumble as the head coach.
ICC Champions Trophy :
The Champions Trophy followed a brief, victorious limited overs tour to the West Indies. The Indians then toured Sri Lanka for a full series under the new coach, where they whitewashed the Islanders 9-0 across all formats.
Coming back, India's dominance continued across formats, starting with a 4-1 demolition of the Kangaroos in the ODIs before sharing the T20I series 1-1.
Kohli's men then made light work of the New Zealanders, beating them 2-1 in both the ODIs and T20Is before ending the year with another humiliation of the hapless Sri Lankans in a hurriedly-organised home series.
Unfortunately, Men-in-Blue lost to an unpredictable Pakistan in finals.
Women Cricket Team This Year: 
While the men's team basked in the glory of an emphatic home season, the women's team under Mitali Raj — the leading run-scorer in women's ODIs — doubled the joy by finishing runners-up in the ICC Women's World Cup.
Their dream of winning the World Cup might have been shattered, but they were successful in winning a billion hearts, making July 23 a historic date for Indians everywhere.
Making it past the league stages was unthinkable for many before these women made it possible in 2017.
Stunning England in their opener, the Indian eves went on a hat-trick streak by beating the West Indies, Pakistan, and Sri Lanka, with brilliant performances by Smriti Mandhana, Ekta Bisht, and Deepti Sharma.
Then came the masterstroke from the Indian vice captain and star all-rounder Harmanpreet Kaur, who single-handedly carried India to the final, scoring a brilliant 171 off 115 balls against Australia in the semi-final.
India gave hosts England a run for their money in the summit clash before going down narrowly by nine runs, but that performance was enough to give oxygen to women's cricket, which will move into 2018 with bigger hopes.
Despite all the success for India, challenges still remain.
And the way Team India have performed in 2017, lead by its passionate captain can manage to repeat the feats of 2017 in the coming year then this team will surely become the greatest our country has ever produced. Primarily because India will be touring South Africa, England, and Australia. Earth-shattering records such as 2017 will surely help the Indian side register wins in those countries – something fans and players will be hoping for alike.
WeForNews